Ultimate Costa Rica Photo Safari
May 30 - June 9, 2008
Donald L. Cohen, MD - DLC Photography
Daily Itinerary - Summary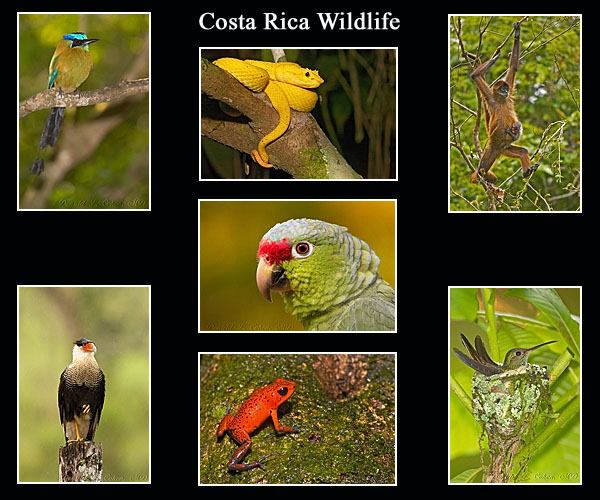 Travel will by on a spacious Air-Conditioned Bus, and we will have our own full-time driver, as well as our own Costa Rican bilingual Naturalist Guide.
Day 1 (Friday, May 30):
Arrive in San Jose, where you will be met at the Airport, and transported to the Hotel Bougainvillea for an overnight stay. The Hotel Bougainvillea is a family owned and operated inn with 80 tastefully decorated rooms set in 12 acres of beautiful gardens. The restaurant offers continental cuisine in a wonderful dining room. Guests can stroll in the gardens, swim in the heated pool, enjoy a sauna or use the tennis courts.
Day 2 (Saturday, May 31):
Morning pick-up from the hotel, and travel on our Private Bus, and then Private Boat, to Tortuguero. Since the boat will be for our exclusive use, we can stop to see and photograph anything we come across, whenever we want. Check in at the Evergreen Lodge, where we'll be staying for 3 nights. The Evergreen Lodge offers comfortable rooms with private bathrooms, hot water and ceiling fans. There is a good restaurant with bar service. Guests can relax by the pool surrounded by gardens and the forest. In the afternoon, take a Private Boat tour, exploring the Tortuguero River and canals in Tortuguero National Park. (B,L,D)
Day 3 (Sunday, June 1):
In addition to morning and afternoon Private Boat tours, there will be time to walk along the beach, explore the Lodge grounds looking for red-eyed tree frogs and other wildlife, swim in the Lodge's pool, etc. (B,L,D)
Day 4 (Monday, June 2):
We'll enjoy a final Private Boat tour in the morning, and after lunch, will have time to relax around the pool or to roam the grounds in search of photographic opportunities. For those interested, trip leader Don and photo guide Greg will be offering an informal workshop on using multiple-flash to photograph the abundant strawberry poison frog. In the late afternoon, we will take a water taxi over to the village of Tortuguero for a bit of travel and beach photography.
Day 5 (Tuesday, June 3):
After breakfast, leave Tortuguero, again traveling with our own Private Boat, going to the docks near Caño Blanco, to meet our bus and driver, who will accompany us for the rest of the trip. From there, drive to Arenal, stopping along the way as wildlife and landscape photo opportunities present themselves. Arrive at the Arenal Observatory Lodge where we will spend the next 2 nights. The Arenal Observatory Lodge is located only 1.6 miles south of the volcano across a gorge from the volcano and surrounded by lush rainforest. Visitors have an impressive view of this "giant which rumbles" and erupts with spectacular displays of vapor and lava. The Observatory is the only lodge situated within the Arenal National Park, which encompasses thousands of acres of pristine rainforest and teems with tropical birds and wildlife. The Lodge offers comfortable rooms (most with volcano views) a good restaurant, pool, and Jacuzzi. (B,L,D)
Day 6 (Wednesday, June 4):
Today we have the early morning free to shoot scenics of the volcano and Lake Arenal or to photograph the amazing birds (e.g., Montezuma oropendola, red-legged honeycreepers, Passerini's tanager, black-cheeked woodpecker) that visit the lodge's fruit feeders. After breakfast, we head to the Arenal Hanging Bridges - a complex of suspended bridges, platforms and trails running through the lush rainforest foothills. We then visit a local snake zoo owned by Greg's friend Victor, where we will have a typical lunch and then take time to photograph the different colored eyelash vipers and parrot snakes in Victor's collection. We will set up plants and use different techniques to photograph these amazing snakes, which are extremely hard to find in the wild. We will also keep a lookout for the butterflies, monkeys, toucans, and tree frogs that frequent Victor's property. The roads between the Observatory Lodge and the Hanging Bridges and the Snake Zoo are great places to spot chestnut-mandibled toucans, howler monkeys, golden-olive woodpeckers, and even magpie jays, so have your big lenses ready on the bus throughout the day! We return to the Observatory Lodge in late afternoon to photograph the sunset over Lake Arenal and to work on long exposures of the active volcano. We finish the day with dinner and a well-deserved rest. (B,L,D)
Day 7 (Thursday, June 5):
The morning is free to shoot around the grounds of the Lodge, or simply relax at the pool. Then we leave Arenal, heading to the central Pacific coast, arriving at Villa Caletas, where we'll be staying for the next 3 nights. Villa Caletas is a unique combination of a mountain and seaside resort. Looming 1150 feet above the Pacific Ocean, it is prized not only for location, design and décor, but also for outstanding facilities. There is a spectacular 360-degree panorama view from this tropical-jungle perch. Below, the rainforests spread to the sandy shores where Villa Caletas maintains its own inviting beach. Time permitting, Don and Greg will work with you to capture beautiful sunset images and then we will adjourn to the bar before dinner to go over the plans for the next few days. (B,L,D)
Day 8 (Friday, June 6):
Early morning private boat tour on the Tarcoles River, which hosts one of the largest colonies of American Crocodile, 250 species of birds, along with various lizards, monkeys, etc. In the afternoon, visit a beach near the Tarcoles River, looking for Scarlet Macaws, Caracara, Frigatebirds, etc. . In the late afternoon we can visit Villa Caletas' private beach to capture sunset beach scenics using long exposures or we can visit a nearby location that is one of Greg's favorite spots for, believe it or not, both souvenir shopping and pictures of nocturnal tree frogs! (B,L,D)
Day 9 (Saturday, June 7):
In the morning, we will hike in Carara National Park, with the opportunity to see a wide variety of birds (Toucans, Scarlet Macaws, Boat-billed Herons, Trogons, etc.), several species of monkeys, lizards, and iguanas. Carara is also a great place to photograph the unusual Pacific race of the green and black poison frog (Dendrobates auratus). If you're not up for a hike, you can relax at the private beach at Villa Caletas, or do a "Zip-line" tour (cost not included). After lunch, we have free time to recharge camera batteries and download images before our late afternoon/sunset private boat tour on the Tarcoles River. (B,L,D)
Day 10 (Sunday, June 8):
After an early breakfast and check-out, we leave the Pacific coast, heading toward San Jose. We will stop for a visit to the La Paz Waterfall Gardens, which has a brand-new aviary, butterfly observatory, and a wide variety of hummingbirds, along with a unique walk through the forest where a sequence of five waterfalls is located. We'll enjoy a buffet lunch at this lovely spot, and continue on to the Orquideas Inn, for our final night in Costa Rica. Only 20 minutes from the international airport, and nestled in over 10 acres of lush tropical vegetation, the rooms here are beautifully decorated, reflecting the soothing pastels and vibrant hues of the tropics. We will have a farewell dinner tonight, and Greg and Don will be available to help you with final identification and captioning for your favorite images from the trip. (B,L,D)
Day 11 (Monday, June 9):
Breakast and private transfer to the Juan Santamaria International Airport in San Jose for your flights home. (B)
---
For all inquiries and questions, my contact information is:
dlc@dlcphoto.com
704-664-6077 - phone
704-973-7778 - fax
To make a reservation, email Greg Basco at:
greg@fotoverdetours.com
Ultimate Costa Rica Photo Safari Home Page
DLC Photography Home Page