Costa Rica Photo Safari 2005
December 2nd - 10th
Donald L. Cohen, MD - DLC Photography
Daily Itinerary - Summary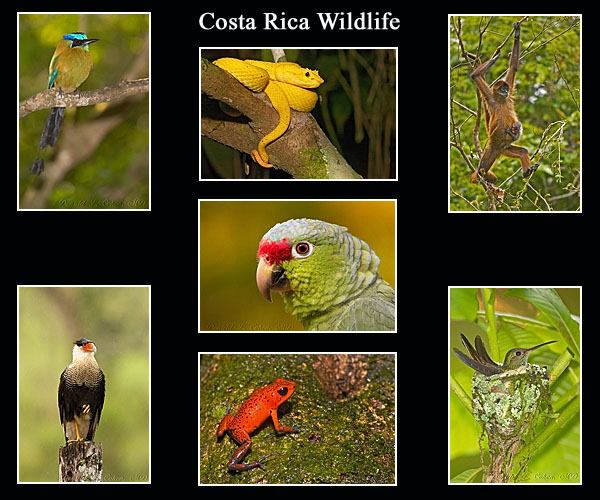 Day 1 (Friday, December 2, 2005):
Arrive in San Jose, where you will be met at the Airport, and transported to the Hotel Bougainvillea in Santo Domingo for an overnight stay.
Day 2 (Saturday, December 3, 2005):
Scenic drive to the canals lining the Caribbean sea, followed by a boat ride through 31 miles of tropical rain forest, arriving in Tortuguero late afternoon. The lodge where we'll be staying for 2 nights has a lovely pool surrounded by exotic gardens, nature trails to explore and a pristine beach in front. Plenty of photo opportunities to take advantage of for the remainder of the day.
Day 3 (Sunday, December 4, 2005):
Two 2-hour boat rides through the backwater canals and Tortuguero National Park, with a local guide. Potential subjects include Howler Monkeys, White-faced (Capuchin) Monkeys and Spider Monkeys, along with a wide variety of birds, lizards, amphibians, etc.
Day 4 (Monday, December 5, 2005):
After breakfast depart Tortuguero by boat – travel north first to Barra de Colorado and then along the San Juan and Sarapiqui Rivers to Puerto Viejo de Sarapiqui. A bus and driver will be waiting there to continue on to Arenal. Please note this is a rather long day but it avoids the domestic flight and problems with weight restrictions. It is a route that is less traveled so wildlife and photo opportunities along the way should be great. Arrive by the end of the day to stay for the next 2 nights at a lodge just outside the Arenal National Park.
Day 5 (Tuesday, December 6, 2005):
This morning with your guide you will visit the Arenal Hanging Bridges, entrance fees included. The Hanging Bridges are a complex of 6 suspension bridges above the jungle canopy and almost 2 miles of brick & concrete trails through the lush rain forest. In the late afternoon you will visit the Ecothermales Hot Springs, where there are four hot spring pools to relax in amidst the calm and beauty of the humid tropical forest. Filled with clean hot spring mineral water heated from the volcano, you'll receive a natural massage from the small cascade of hot spring water.
Day 6 (Wednesday, December 7, 2005):
This morning you will hike with your guide in the Arenal Volcano National Park, entrance fees included. This hike takes you for a close-up exploration of recent lava flows which left a 50 feet (15 meters) deep path of lava through the rainforest. After your hike, you will depart Arenal for a scenic drive to you hotel on Jaco Beach (approximately a 4 hour drive), where we'll spend 2 nights.
Day 7 (Thursday, December 8, 2005):
Today with your guide you will enjoy a hike in the Carara National Park, entrance fees included. The Carara has a transitional climate and contains flora and fauna from both the hot dry northwest, and the rainy region of the southwest. Carara's habitat includes marshes, primary and secondary forests, and is home to parrots, parakeets, toucan, trogons, Scarlet Macaws, and three species of monkeys.
Day 8 (Friday, December 9, 2005):
Today you Depart the Central Pacific Coast for San Jose, stopping en route at the artisan town of Sarchi. Sarchi is a shopper's paradise, and you will have a chance to visit local woodworkers and craftsmen. You will also visit the Oxcart Wheel Factory where you can watch the artists in action painting the colorful painted oxcarts, a traditional symbol of Costa Rica. You will continue to the La Paz Waterfall Gardens, entrance fee & lunch included. At La Paz you will have an opportunity to see magnificent waterfalls from viewing platforms and a Butterfly Observatory. You will then continue on to your hotel in Alajuela. This evening enjoy a farewell dinner with your group for you last night in Costa Rica.
Day 9 (Saturday, December 10, 2005):
You will be picked up at your hotel for the departure transfer for your International flight 3 hours before your scheduled flight time.
This is just an outline summary of the overall itinerary. For greater detail about the facilities provided by the lodges and hotels where we'll be staying, with several photos Sunny Breeding has taken at many of these areas, please go to Sunny's World Class Tour's pages.
---
For all inquiries, and to make a reservation, my contact information is:
dlc@dlcphoto.com
704-664-6077 - phone
704-973-7778 - fax
Costa Rica Photo Safari 2005 Home Page
DLC Photography Home Page