Costa Rica

Photography Workshop
April 26 - May 6, 2013
Donald L. Cohen, MD - DLC Photography
Daily Itinerary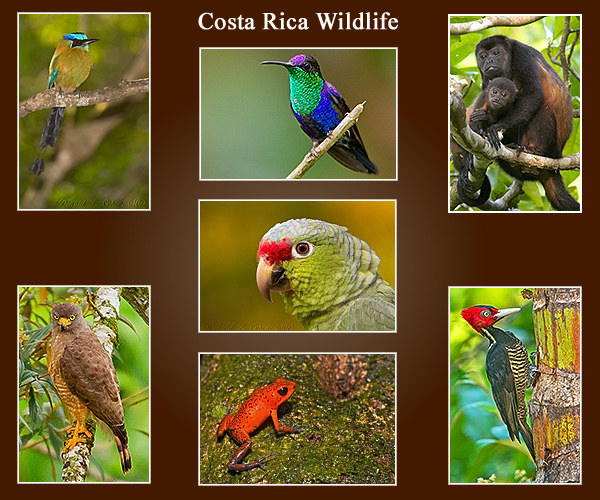 Travel will by on a spacious Air-Conditioned Bus, and we will have our own full-time driver, as well as our own Costa Rican bilingual Naturalist Guide. All meals are included with the only exception being the first dinner after arriving in San Jose, before the tour officially starts.
Day 1: Friday, April 26
After arrival at the International Juan Santamaria Airport in San Jose, you will be met at the airport and brought to the Hotel Bougainvillea for an overnight stay. The Hotel Bougainvillea is a family owned and operated inn with 80 tastefully decorated rooms set in 12 acres of beautiful gardens, home to some 60 species of birds. The restaurant offers continental cuisine in a wonderful dining room. Guests can stroll in the gardens, swim in the heated pool, enjoy a sauna or use the tennis courts.
Day 2: Saturday, April 27
After breakfast, we'll be picked up on our own Private Bus, and our full-time driver along with our Naturalist Guide, Marco Fallas, will take us to the Sarapiqui area. We'll be spending the next 3 nights at the Selva Verde Lodge. Situated near the Sarapiqui River, this beautiful lodge is surrounded by more than 500 acres of lush, tropical rainforest. The inviting swimming pool located close to the bar and dining area, provides not only an excellent place to relax, but an amazing spot for bird-watching as well.
The Sarapiqui area in Costa Rica's northern lowlands is one of the best locations to experience the many wonders of the tropical rainforests. Monkeys, parrots, toucans, iguanas, caiman, sloths, poison dart frogs and basilisk lizards are rainforest residents regularly seen in the region. La Selva is one of the premier birding 'hot spots' in Costa Rica - over 400 bird species have been seen there!
En route to Sarapiqui, we'll make a stop at La Virgen del Socorr (a private reserve) and lunch at the local restaurant owned by Don Jose. In the afternoon we'll visit the Sarapiqui Eco-Observatory, a new bird sanctuary with more than 220 species of birds.
Day 3: Sunday, April 28
For an extraordinary experience in bird watching and photography, we'll be picked up early in the morning and travel to the La Selva Organization for Tropical Studies (OTS). This is a 1560-hectare research station and biological reserve. In this reserve more than 450 species of trees, 400 species of birds, 113 species of mammals, 81 species of reptiles and 48 species of amphibians have been identified. Breakfast and lunch will be served at OTS.
In the afternoon we'll visit the Tirimbina Reserve and hanging bridges, on a guided hike to explore the biological richness of the rainforest. Monkeys, toucans, colorful birds, poison dart frogs, and the famous blue morpho butterfly are just some of the wonderful forest residents you may encounter on your walk. The trail includes a long suspension bridge over the Sarapiqui River.
Day 4: Monday, April 29
After an early breakfast we'll enjoy a relaxing Boat Ride on the Sarapiqui River, observing and photographing wildlife in and along the banks of the river. You'll pass both forested and agricultural lands to observe the activities of the people and animals whose lives are influenced by the flow of the waters. The boat guides are some of the best wildlife spotters on the river, so we should have ample opportunity for photography!
In the afternoon we'll visit Laguna Jalapa in the Tairia Reserve. This lagoon is located 10 km from Puerto Viejo, on the Caribbean coast of Costa Rica. The lagoon consists of two wetland areas, and is considered a 'mecca for naturalists' interested in seeing an outstanding variety of birds common in Costa Rica's lowland rainforest and riparian habitats.
Day 5: Tuesday, April 30
Today we depart for the Turrialba area. Located in eastern Costa Rica Turrialba is a lush region that produces coffee, sugarcane, numerous types of cheeses. The area hosts an ancient indigenous site at Guayabo National Monument and a simmering active volcano also named Turrialba.
En route we'll make a stop at Las Brisas Nature Reserve, a private nature reserve located on the lower slopes of Turrialba volcano in Costa Rica. Their primary goal is conservation, habitat rehabilitation and scientific inquiry. The reserve has a complete system of trails and tree platforms. Many birds are exclusive to this rare accessible elevation and other birds from low and highlands meet at this point.
We then head for the Rancho Naturalista, where we'll be staying for the next 3 nights, exploring the fabulous bird life this location is world-famous for, with over 400 species of birds having been seen in this area. Rancho Naturalista's 14 rooms are large, comfortable, and well appointed. Most have a covered veranda or balcony and feature scenic views of Costa Rica's two tallest volcanoes (Irazu and Turrialba) and the rainforest. All rooms have private baths.
Day 6: Wednesday, May 01
This day you may enjoy a day of relaxation at the Hotel or a hike through the many trails around the lodge. You will have the opportunity to see and photograph a wide variety of birds such as the Chachalaca, White-crowned Parrot, White-necked Jacobin, Violet-crowned Woodnymph, Blue-crowned Motmot, Collared Aracari, Keel-billed Toucan, White-collared Manakin, Masked Tityra, Tropical Parula, Passerini's Tanager, Golden-hooded Tanager, Montezuma Oropendola. Less common but still frequently seen birds would include the Snowcap, Tawny-chested Flycatcher, Purplish-backed Quail-dove, White-crowned Manakin, White-throated Flycatcher, Dull-mantled Antbird, Spotted Antbird, Thicket Antpitta, Black-throated Wren, Black-crested Coquette, Tawny-throated Leaftosser, Thrushlike Schiffornis, Grey-headed Piprites.
Day 7: Thursday, May 02
After breakfast, you will visit El Silencio River and the Sunbittern Creek for an exceptional time watching birds. We saw and shot these last year, and it was a real treat. The beauty of these birds in flight is something to be experienced! During the afternoon you may enjoy some relaxation at the Hotel or a hike through the many trails around the lodge.
Day 8: Friday, May 03
This morning we'll be leaving Rancho Naturalista, for a scenic journey to the Savegre Mountain Hotel, where we'll stay the next 2 nights. We'll have breakfast at a great local eatery named 'Bocadito del Cielo', located on the highlands of Cerro Buena Vista mountain range. The Savegre Mountain Hotel is located in San Gerardo de Dota, a small community in Costa Rica's southern Talamanca Mountains. This is known as one of the best places in the country to observe the Resplendant Quetzal, which live here almost all year around. The Hotel hosts the Quetzal Education Research Center Complex (QERC), a cooperative venture between the Chacun Family and Southern Nazarene University in Oklahoma.
Day 9: Saturday, May 04
This day you may enjoy a day of relaxation at the Hotel and surroundings or a day of activities offered within the Hotel's property. These activities include bird watching on the various trails of the Hotel, a cloud forest night tour, hiking, horseback riding, a waterfall tour or exploring the Paramo in Los Quetzales National Park.
Day 10: Sunday, May 05
Breakfast will be served early at The Savegre Mountain Hotel. After, we'll drive to a park named Paraiso del Quetzal. Enjoy the wonders of the cloud forest, the trails distinguished for their variety of bird species and have another opportunity to see the magnificent Resplendant Quetzal. Other animals that may be seen in their natural habitat are the coyote, kinkajou, spider monkeys, coatimundi, and mountain rabbits.
After lunch, we'll depart for San Jose and the Hotel Bougainvillea.
Day 11: Monday, May 06
Depending on the time of your international flight departure, one of our transport representatives will drive you from the Hotel Bougainvillea to the International Juan Santamaria Airport, where you must check in approximately 3 hours prior to the time of your scheduled flight.
---
For all inquiries and questions, my contact information is
dlc@dlcphoto.com

704-664-6077 - Phone

888-452-8026 - fax

To make a reservation, email John Aspinall at:
jaspinall@crconnect.com
Costa Rica Photo Workshop April 26 - May 6, 2013 - Home Page
DLC Photography Home Page