Canon Ftb/Kodachrome Scans
These images come from 35mm Kodachrome slides taken mostly between 1973 and 1975 (one from 1985) with my original Canon FTb. The lens used was either the Canon 50mm/f1.8 or Vivitar 70-210 Macro Zoom. Some shots used add-on Close-up lenses, and a few used the Canon FL Bellows. It seems like my early interest in macro work foreshadowed my eventual career in the microsurgery of Ophthalmology. Fairly primitive equipment by today's standards, and I was a rank amateur, so the quality leaves something to be desired. But I had fun with it all, and learned a lot.
The shot shown here was taken recently when I sold all this equipment on E-bay.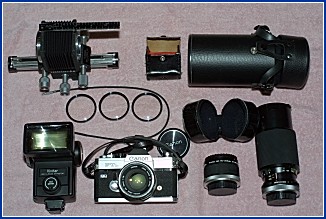 These slides (along with almost 2,000 others) were scanned with the Nikon LS-2000 scanner, using the SF-200 automatic slide feeder to semi-automate the process. The images were eventually burned on CD-R. The project took several months of spare time.
Click here to return to Gallery Home Page
Click here to return to the Main Home Page