Costa Rica - December, 2005 - Part 1
This set of 3 Galleries contains images from the fantastic Photo Safari Workshop I led December 2nd-10th, 2005, accompanied by 7 participants, in addition to my wife. The weather was very cooperative, as were the wildlife, so we had plenty of opportunities to see, experience, and shoot a wide variety of Costa Rica's natural riches. Our guide, Jimmy Tosso, was excellent, and was a big part of our success. His well-trained eye, along with the experience of the bus and boat drivers, really made the difference in spotting and getting close to the various birds, monkeys and other forms of life in this biodiverse part of the world.
We spent the first night at the Hotel Bougainvillea, north of San Jose, and left the following morning for Tortuguero. We spent 2 nights there, taking several boat rides on the river and canals in the Tortuguero Park. We then took a boat-ride on the San Jose River, the border between Costa Rica and Nicaragua, en route to the Arenal Volcano area. This Gallery contains images taken during these first few days of the trip.
New Feature: this is the first time I fully tested out and used a GPS set-up, to pinpoint where my images were taken. I will be addressing the details and specifics of how I accomplished this in the future, but for now, you can access this information using Google Earth. This is a fascinating tool available from Google, displaying satellite imagery of the entire planet. You can get information about this application here, and it can be downloaded here. Once installed you can then open and view the KMZ file I created, which shows where my images were taken, including a thumbnail of the photo itself, and a link to the full-sized image on my website. This file can be accessed by clicking here. Please email me if you have any inquiries or difficulties.
All Content © Donald L. Cohen, MD
All Rights Reserved

Click on each thumbnail to open up a larger image.



 


    

These
    images, along with all the others present in the various galleries,
    are available for purchase as prints up to 13"x19".
    For more details on buying prints, please click here.
---
| | | |
| --- | --- | --- |
| | | |
| River Confluence | Howler Monkey 'scowling' | Howler Monkey baby |
Slaty-tailed Trogon
Front View

Capuchin Up-close 1

Slaty-tailed Trogon
Back View
| | | |
| --- | --- | --- |
| | | |
| Northern Jacana - Adult | Capuchin Up-close 2 | Northern Jacana - Juvenile |
| | | |
| --- | --- | --- |
| | | |
| Little Blue Heron Posing | Brown Iguana Basking | Bare-throated Tiger Heron |
| | | |
| --- | --- | --- |
| | | |
| Anhinga Stretched Out | American Crocodile | 3-Toed Sloth 1 |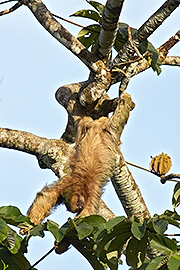 3-Toed Sloth 2